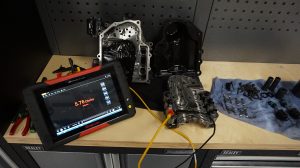 DSG gearbox repair P189C/006300
,DSG gearbox repair P189C/006300 is becoming ever more common. A fault code normally found with this fault is;
16946/P0562/001378 – System Voltage Low
005636/P1604 – Internal Control Module
P189C/006300 – Function restriction due to insufficient pressure build-up
Your local dealership will unfortunately only offer you a complete new unit instead of offering a repair. We have the solution! In most instances it is possible to carry out a repair on the mechatronic unit in the DSG gearbox.
In our car garage this week, we were presented with another vw golf with another gearbox warning light on the dash. We carried out some quick and cost effective diagnostics to find fault code P189c 006300 stored in the DSG ECU fault memory. From vast experience in this we carried out some further tests to find a failure in the DSG mechatronic gearbox unit.
Our repair procedure found this vehicles DSG gearbox mechatronic repaired at a cost effective price and back on the road.
Tags:
dq200
,
dq250
,
dq501
,
dq511
,
dsg
,
gearbox fault
,
luk
,
mechatronic
,
no reverse
,
p189c
,
s tronic