Gen 4 haldex servicing tiguan, golfs, A3 is sometimes overlooked. Both VW and Audi recommend the oil is changed at 38,000 miles. BUT there is something they miss on the dealer servicing.
In most cases, when oil is replaced as a serviceable item, a filter is accompanied with it. VW Audi group decided to use the Generation 4 Haldex coupling drive on various of there models. They did not make the filter a purchasable item. Following manufacturers service guidelines, your filter does not get changed resulting in potential damage to the unit from oil starvation.
So what do we offer you may ask? We purchase quantities of filters direct from the manufacture of the haldex unit making our service a complete not just oil change. This aids the life of the Haldex unit.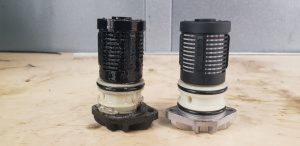 Gen 4 Haldex servicing tiguan Golf R S3 A3 filter can be seen above. Left filter has covered over 50,000 miles. The customer described the rear of the vehicle to be un-sturdy whiles driving round corners and roundabouts. We carried out a diagnostic test to find pump problems with the Haldex. Everything was resolved with the correct service procedure and the vehicle repaired without the need to replace unnecessary parts.
Tags:
Gen 4
,
golf r
,
haldex filter
,
haldex service
,
S3